Video calling channels for contact center
Multi-channel, transactional video calling and web collaboration platform, ready for modern web browsers, mobile devices and interactive kiosks.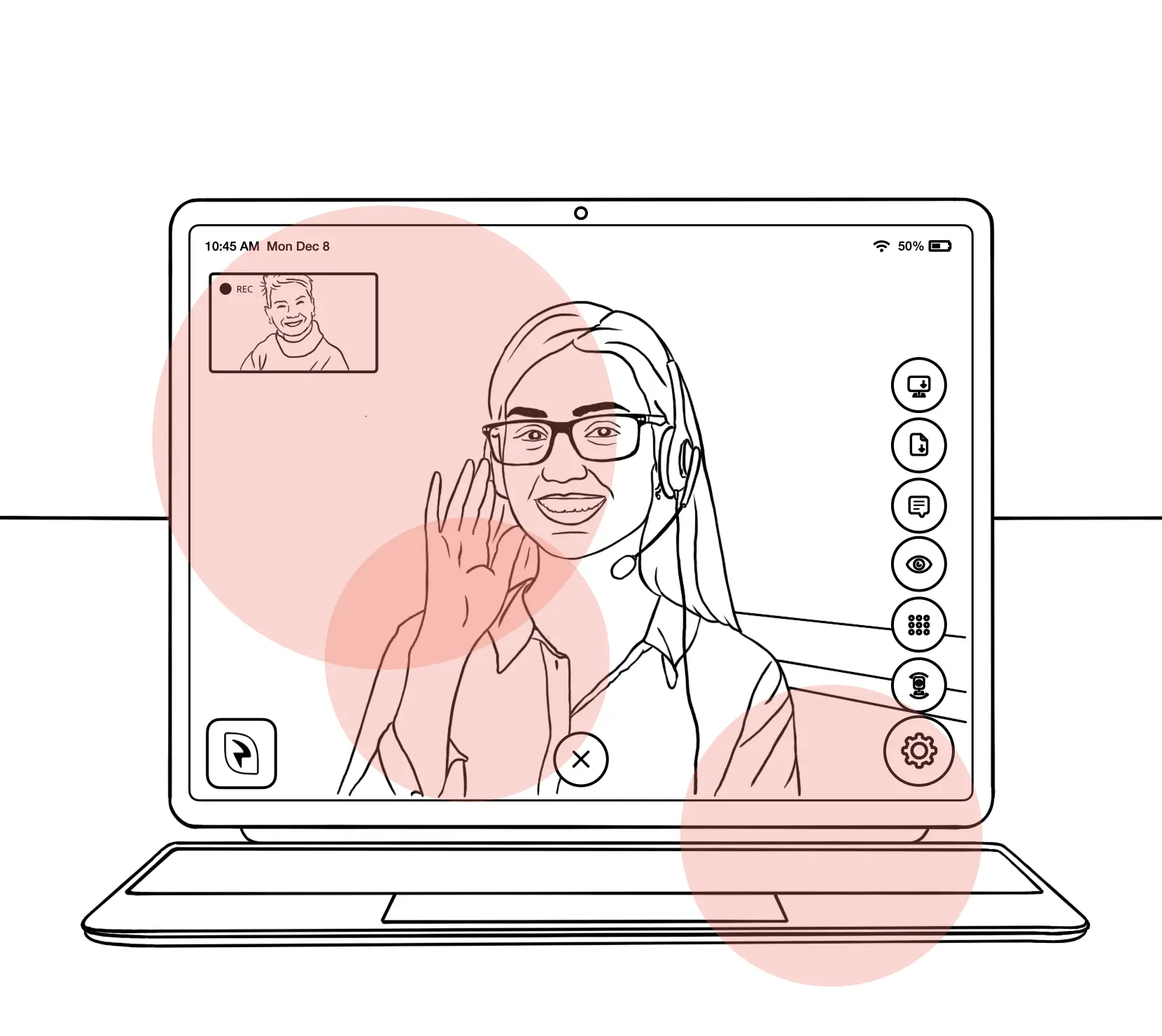 Hybrid video calling gateway

SIP and WebRTC communications technologies all together is what most companies are looking for. We got it to streamline your business.

High-availability and scalabilty

Think big, scale to infinite is our capacity limits. We understand your video services are critical and must reach huge volumes.

Interoperable with any call center

Keep your existing contact center suite or CCaaS service and make it interoperable with video calls and web collaboration.
5.x

Latest release available

256-bit

AES security SSL certified

Hybrid

SIP & WebRTC powered

AWS

CPaaS hosted & managed
Voice & Video Calling

Make voice & video calls over the Internet with Wifi, 3G/4G/5G using your own web browser. Get engagement from your web visitors and convert clicks into "face-to-face" communications with your customers.

File Sharing

Share files during a call or video call without sending email. Do it without waiting, directly from the web browser improving the immediacy and attention paid to any sale or support discussions.

Live Chat

Initiate or maintain conversations by chat before or during an interactive or telephone call, share links, emoticons to improve the support given. Improve the quality of your online interactions thanks to live chat.

Dual Screen Sharing

Share a desktop screen or application window with your customers through your web browser. Your remote attention processes will be transformed with this amazing streaming capability.

CoBrowsing

Share your web session and create a differential online experience for your e-commerce or web services. Provide efficient online support, saving time and difficulties for your live agents and users.

Snapshot

Bi-directional capture of images or video frames for facial identification or image analysis of barcodes or official documents. Connect the security and identification systems of your business.
Third-party call center integrations
Upgrade your contact center with interoperable video channels. Easily integrate advanced video communication, regardless of your current software.
With Video RTC, agents can work on a single platform while interacting with all customers, resulting in cost reductions and faster task completion. Additionally, the reduction in average response time helps avoid errors and improves the overall customer experience. Even if your current contact center software vendor is not yet included, don't hesitate to reach out to us as we can integrate it.
Hybrid connectivity use cases
Run and handle any real-time communication method your business processes and digital customers are demanding today.
Inbound Video Call

User-to-Agent video call using SPLIT protocol for ACD and recording integration.

Outbound Video Call

Agent-to-User video call using SPLIT protocol for ACD and recording integration.

Scheduled Video Call

Agent-to-User video call using time scheduled SPLIT protocol for ACD with recording as well.

Peer-to-Peer Video Call

User-to-Agent or Agent-to-User direct video call without ACD integration requirement.

Video Room

Video Meetings up to 6 users or agents connected in a virtual multiple peers room.

RTC-SIP Video Call

User-to-Agent video call with RTC to SIP conversion, transcoding with recording.
Applications & addons
Tokenizer

Protect your video calls links with a secure token that ensure unique access with time limitation, pass-through multiple parameters and URL customization.

Tester

Test your users' device or connection before starting a video call to check properly their network, browser, microphone, webcams are in good conditions.

Videomail

Get video messages from your users to improve your customer services, and let them use the power of video instead of voice/text only voicemail methods.

Pollster

Make post-video calls surveys and polls to get real indicators for your Quality Assurance processes. Pollster enables to edit your own questions and KPI.

Video ID

Identify a user o customer using facial recognition to grant access to a specific service or process a video ID verification external process for your business.

Back +

Make your Video Calling services more professional, performant adding immersive Background Effects like Blur or Picture (with logos or virtual offices).

Flip Camera

Quickly switch between device cameras or webcams during video calls. Compatible with all browsers, making it a versatile addition to any video call conversation.

Picture in Picture

Overlay a smaller video window on top of the main video stream during video calls. Ideal to increase agents productivity during video conversations as never before.

Agent Label

Show Agent name, role or ID in the top corner according to the routing assignation. This label help users to name your people support and provide a more personal assistance.
Award winning & top-rated
G2+

G2 is the world's largest tech marketplace where businesses can discover, review, and manage the technology they need to reach their potential.

Learn More

Capterra

Capterra provides research and user reviews on software applications for businesses and assists consumers with selecting software for their needs.

Learn More

AWS Partner

AWS Partner Network (APN) is a global community of partners that leverages programs, expertise, and resources to build, market, and sell customer offerings.

Learn More
Streamline your business communications